click below to link:
Therapeutic Massage Helps With... Chronic Pain, Headaches, Lower Back Pain, Upper Back, Neck Pain, Fibromyalgia, Stress & Tension Relief, Migraines, TMJ, Relaxation & Calmness, Depression, Circulation, Accident Rehabilitation, Post-Op Rehab, High Blood Pressure, Range of Motion, Immune System, Insomnia, Sports Injury, Poor Posture, Allergies, Anxiety, Carpal Tunnel Syndrome, Joint Injury, Autism,
Elderly/Geriatric People, Homebound, Pediatric Clients, Sciatica, Oncology Patients, Stretching for Flexibility.
Massage Benefits Section


Natural Products for Personal Care, the Home, and More - Mountainside-Diversified.Com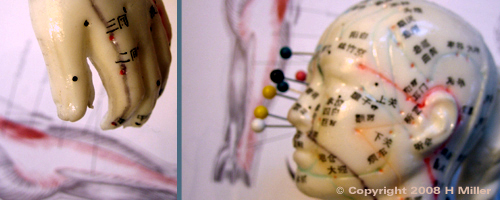 Massage Abstracts / Studies
Index of Scientific Studies proving the efficacy
and effectiveness of Therapeutic Massage
as a healing modality.
Massage Debunkers Debunked!
Some skeptics attempt to debunk
Massage Therapy as a effective treatment.
Here such arguments are addressed.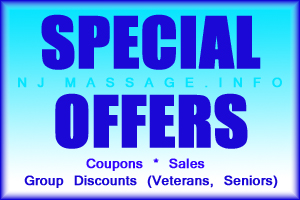 Health and Wellness Fairs
Corporate Health Fairs in NJ and NYC: Chair Massage, a Sound Health Fair Idea
Wellness Health Fairs are now popular in New York and New Jersey, and also well beyond this area. The reason for having a health fair is to bring attention to health, diet, and fitness issues for employees, helping them to focus on improving their lifestyle in order to gain more complete wellness. On-site Chair Massage is an integral part of this refocusing and education, helping employees to learn to relax, without the aid of entertainment, food, or even a Martini!
Corporate Health Fairs also provide employees and employers alike with more data about employees' health status, which can help employees by providing a more complete understanding of their own health status, and even aid employers by helping to secure better group health insurance rates, in some instances, by sending aggregate data.
Employers usually contract out to a third-party company to come in and set up the event. Health and Wellness Fairs can range from the simple and inexpensive, to elaborate week-long health fairs more like pageants. Your company's budget, number of employees, and corporate goals, will all determine what sort of health fair activities will be offered. In most cases, a more modest Health Fair suffices to meet the needs of the company.
Nearly universal to all corporate health fairs are nurses or other health professionals administering blood pressure tests, blood sugar screening, and/or cholesterol checks. Sometimes employers offer flu immunizations as well. Besides this, other vendors may be found who provide additional testing, using the latest in diagnostic equipment. Some vendors may arrive with a presentation including hands-on exhibits about health, diet, fitness, or related topics. There should be refreshments; some good basics are cold bottled spring water, bottled fruit juice, as well as fresh fruit, cut veggies and (healthy low fat!) dip .
Health Fair Ideas: Research and Poll Before Deciding on Specific Health Fair Activities
Chair Massage is a great complement to other health-oriented activities and vendors. Company employees may receive a fully clothed, upright chair massage, if they so choose. This often ends up being the most popular part of the health fair, even beating out those vendors with graphic images of damage done by poor dietary choices. There are many health fair ideas, and putting together a quality health fair may take some teamwork and forethought. Even having a third party company taking care of most of the details, your company's own human resources department should have some input in the process as well.
On-site Chair Massage is but one effective activity. Other vendors should provide a compelling display, or provide a vital diagnostic test (such as hearing, eyesight, arterial blood flow, etc.) Some companies may also hire a chiropractor for the day, as well as a psychologist, or even a podiatrist! Helping employees to maximize their wellness helps them to remain creative, calm, and working at their best. On-site Hatha Yoga, Tai Chi, or even a co-ed aerobics class, also work well.
If your company is situated on a large campus, a game of frisbee or softball may also help set a more relaxed tone for the event. You know your staff; find activities, lecturers, and topics interesting to them. You may even poll employees prior to the event to see what your staff is interested in learning about. This can be as simple as an informal rap session, or could involve an anonymous drop box for ideas.
On-site Massage helps ease employees' tensions, as many have anxieties about facing their health issues, such as weight, diet, or even more serious conditions such as diabetes or high blood pressure. And of course, Therapeutic Massage has been proven to help with high blood pressure, so helping to foster the habit of regular sessions outside of work may be a good start to new, better personal health choices. Or, your Corporate Health Fair may be the starting point for regular Wellness Sessions of Chair Massage at your company, either paid by the employer, paid by the employee, or somehow splitting the cost between the two.
Health Fairs and Health Fair Vendors: Pay Services, Free Services, and the Role of Nonprofit Organizations
Some vendors will charge your company a flat fee. Rarely, vendors will instead rely on employees paying for the individual tests. Some vendors are nonprofit seeking to share a health message, such as the effects of tobacco or overindulging in alcohol, and provide services without charge. There are many health fair ideas out there, so a thorough search of the web will reveal both companies specializing in Health Fairs, as well as various vendors that provide unique health services. Local and international groups offer free education, pamphlets, sample products, lecturers for the day, and more.
Lectures, group-chats, workshops, and other active learning activities are a great way to move employees in a more positive lifestyle direction. Learning to make better health and wellness choices outside of work is important, and without some attention being called to such, chances are, next year's health fair will witness employees in worse shape, not better.
Mobile Chair Massage by Mountainside On-site massage Therapy is available in New Jersey, as well as New York City. We are available seven days a week, during work hours all the way up until 11 PM. If you are interested in our services, or would like help organizing a health fair for your company, we would be happy to assist you. Please call 877-480-8038 or email [email protected]
Please click on the '@ Contact Us' button at bottom-left to access our inquiry form, or use the button at the top of this page. Feel free to also call us at 877 480 8038 for more information or to book an appointment.
Cash, PayPal, CashApp, GooglePay, Credit Cards, and Gift Certificates accepted. Insurance plans accepted: County / Municipal Health Care Plans (NJ), Independent Health Flex Fit, Preferred Care, No-Fault with Authorization
Note: We offer *strictly* therapeutic massage therapy. We do *NOT* offer as€nsual u'massage', in any form.